Our Expertise
We got tired of troubleshooting SOLIDWORKS PDM and coming up with everything except what we need, so we built what we needed and now we want to share it with you. EQUIVAQ SOFTWARE builds End-To-End Solutions that answer your firm's engineering and data management needs through SOLIDWORKS PDM and beyond. We have years of experience and expertise in the following key areas:
SOLIDWORKS Design Services

SOLIDWORKS Troubleshooting

SOLIDWORKS Solutions

SOLIDWORKS and SOLIDWORKS PDM Consulting
The Q!™ combines and encompasses best parts of the SOLIDWORKS Forums and the SOLIDWORKS resellers. Our SOLIDWORKS & SOLIDWORKS PDM experts will listen to each customer's unique budget and productivity requirements to provide solutions that fit your goals, but we are also dedicated to providing educational resources for those learning SOLIDWORKS.
As part of our dedication to our customers and industry, we offer free initial consultations to anyone who wants to see how The Q! can help them, as well as free SOLIDWORKS education resources such as video walkthroughs, blogs, and free tools.
Our Mission
EQUIVAQ SOFTWARE brings a fresh perspective to the engineering industry by offering an End-to-End solution that encompasses high quality annual subscriptions for PDM add-ins, PDM Consulting Services, SOLIDWORKS Design Services, and Content Distribution applications tailored individually to connect your business processes with your product design cycle.
EQUIVAQ promotes the SOLIDWORKS Product lines while training PDM Administrators and SOLIDWORKS users in our market space between the SOLIDWORKS Forums and the SOLIDWORKS Resellers.
"When you buy PDM, it's like buying a new suit and you buy that suit from the SOLIDWORKS Resellers.
We are the tailors who custom tailor that new suit to fit you perfectly!" – T. Webb

.
---
Our Team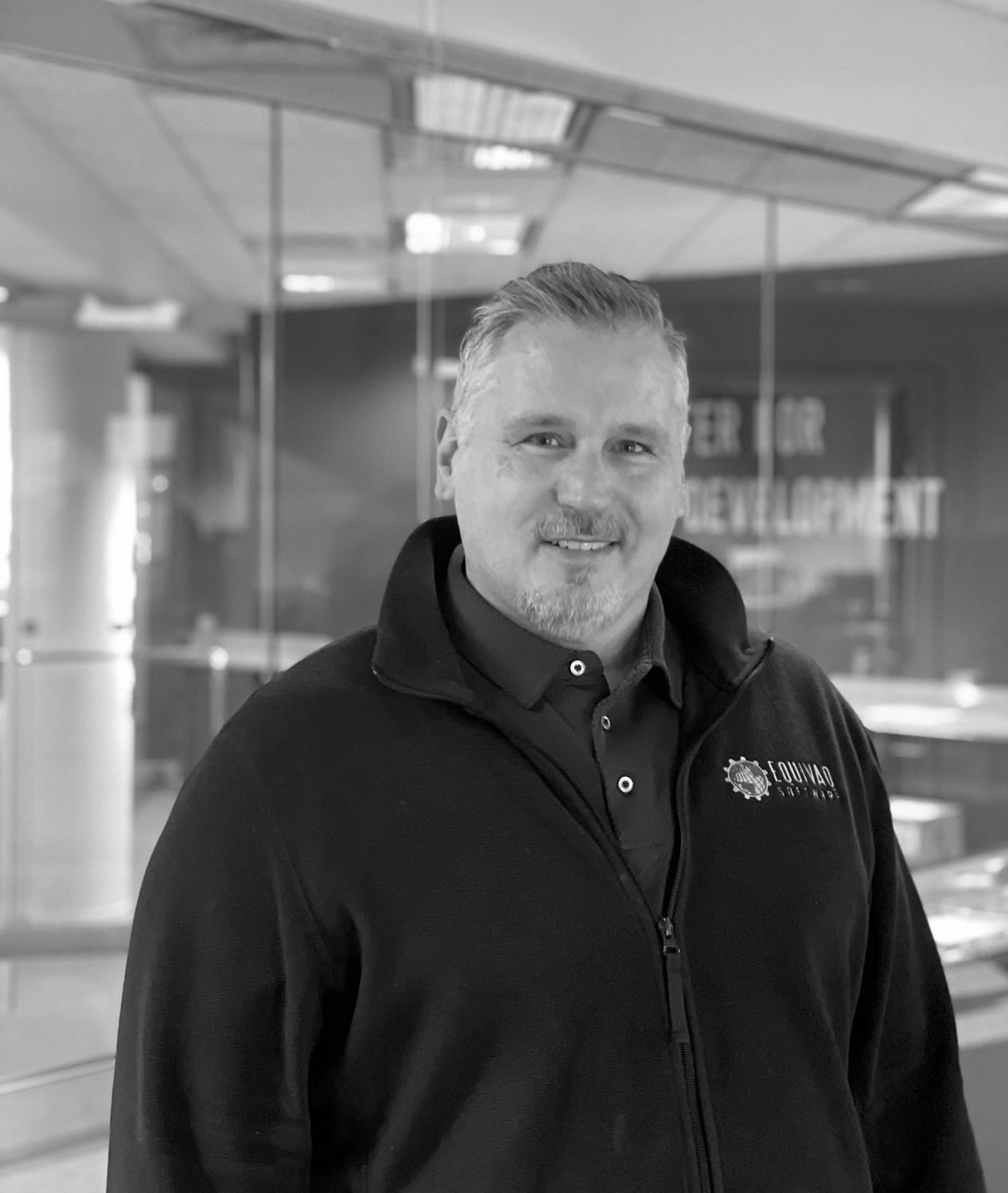 Tim Webb
Director of Operations
Tim runs the day-to-day operations at equivaQ. He brings more than 30 years of engineering and software development expertise, and executive management experience with him. Tim manages corporate direction and strategy at equivaQ, facilitating company activity in consulting, sales, marketing, alliances, software development, and support. He is the face and voice behind our YouTube channel where he provides educational videos and best practices in SOLIDWORKS and SOLIDWORKS PDM. As an engineer, he is always looking for new ways to make SOLIDWORKS more user friendly.
Hunter Collins
Global PDM Solutions Engineer
Hunter has been with EQUIVAQ since 2019 and has designed many custom PDM solutions. He has uplifted and improved  many company's value streams adding PDM Vaults, custom solutions,etc. He is also tasked with SOLIDWORKS designs, editing other team members drawings, compiling hard copy drawing packages, adding and organizing files in SOLIDWORKS PDM, etc. Hunter attended William Penn University on a football scholarship where he led the team to 5th in the nation NAIA Division, the highest national rank in school history. Hunter studied Mechanical Engineering and Industrial Technology for 4 years before transferring to Oklahoma State University to finish his Mechanical Engineering Technology degree.
FOGNETx
IT Manager
The Q! uses FOGNETx for all of our IT business needs and collaborate with them on our cloud based solution.
FOGNETx isn't a "cloud" company. While we exist in that nebulous space, we are located wherever you need your services/solutions delivered. Need that service in the back office, lab, manufacturing floor? We are there. Need it on all 7 continents? We can do 6 today (Always looking for an opportunity in Antarctica).